Closing Conference of the Legal Research Group
Event Navigation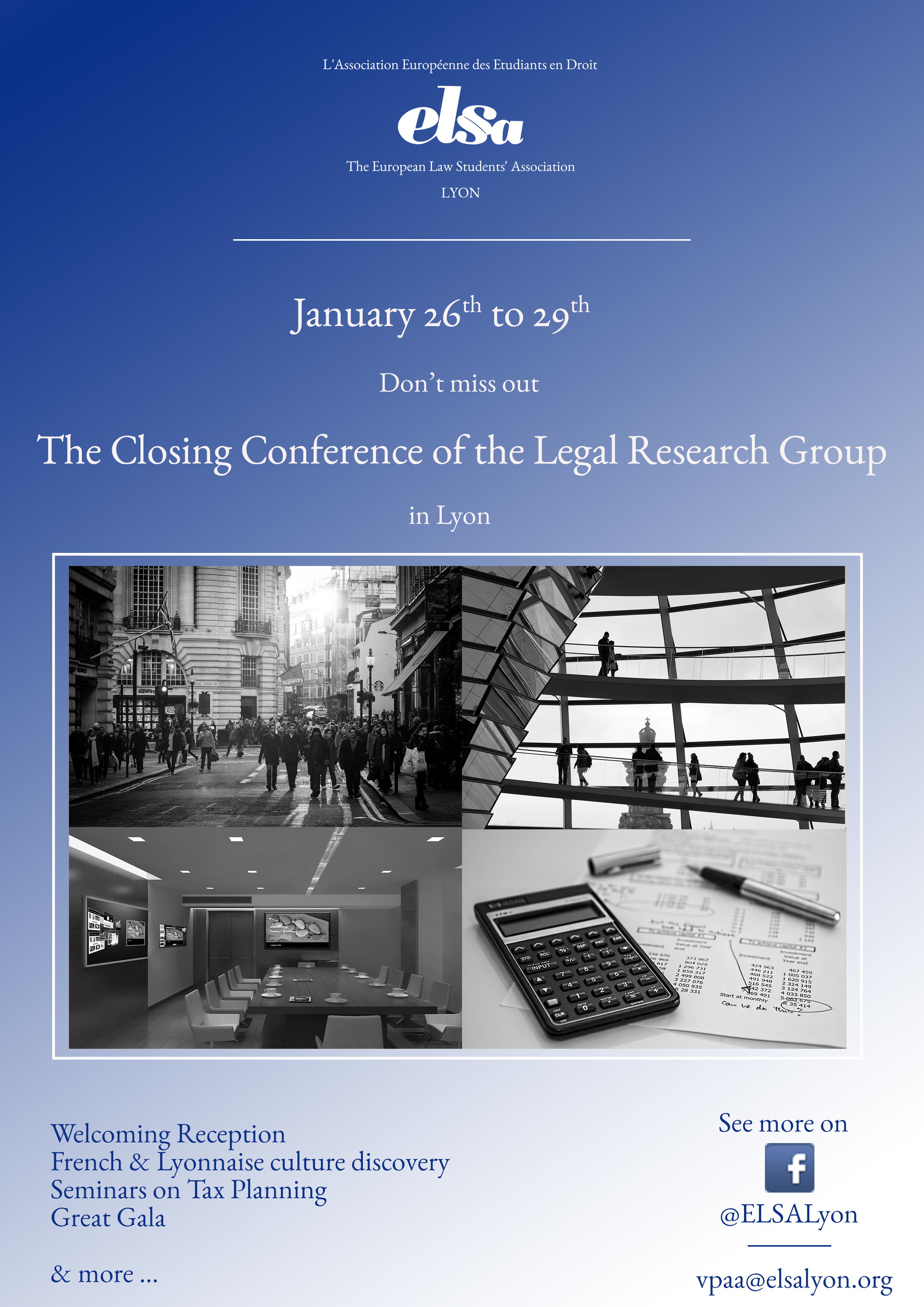 What is the LRG?
The Legal Research Group is made of young professionals and research students who work together on a given legal theme. In 2016, ELSA Lyon was at one LRG's initiative based on tax law optimisation of companies in Europe. The group made of members from ELSA Lyon, ELSA Portugal, ELSA Bologna and ELSA Luxembourg has now finished his work.
Programme overview
→ Thursday, January 26th : welcoming reception
For those who will arrive early on this day and want to further learn the French culture, we will take you to the "Musée des Confluences" (check it out: http://www.museedesconfluences.fr/fr/visit-museum)
You will then be greeted with a drink and a dinner in a local famous restaurant in Lyon where you will have the opportunity to meet all the participants as well as the local members.
→ Friday, January 27th : French culture and seminars
Your stay in Lyon will start with a visit of the Halles Paul Bocuse, a great place to have an overview of the French food culture by tasting cheese, oysters and great pastries.
The afternoon will then be organised around different sessions in English on new topics related to tax law in Europe and will end with a presentation from our research students who worked on the project.
In the evening you will have the opportunity to mingle with other participants at the cocktail reception held at the University of Lyon.
If you miss out the "Fête des Lumières" in December, do not worry, we will take you to Fourvière to have a great panoramic view at night over the city of Lyon (https://upload.wikimedia.org/…/c7/Pano_lyon_fourviere_nuit.…)
→ Saturday, January 28th : visit and seminars
You will have the chance to discover the city of Lyon with a professional guide who will show you everything you have to see in this beautiful city.
After an afternoon of workshops, you will have time to get ready for the Gala which will be held at one of the best place to party in Lyon. Details will be given soon. This guy will give you a clue for the theme of the gala : http://www.cinemablography.org/…/6/11768862/3529957_orig.png
→ Sunday, January 29th : Brunch
To end your stay, we have organised for you a Brunch on a boat going down the Saone River to feel like a true "Lyonnais(e)" on your last day in Lyon.
More information will be posted soon on Facebook:
– Planning of the workshops
– Gala event (do not forget to click "attend" so we can have a rough number)
→ PRICING :
All in package:
-Elsa member from non-favored country: 193€
-Elsa members from favored country: 178€
→ INCLUDES :
Accommodation package: includes breakfast and transports
-ELSA members from non-favored country: 34€ per day
-ELSA members from favored country: 29€ per day
SOCIAL PACKAGE
Welcome party (include food and drink) + cocktail reception 20€
CULTURAL PACKAGE
Musée des Confluences + Halles Paul Bocuse + Fourvière + guided city tour 15€
GALA 34€ includes fancy dinner
SUNDAY BRUNCH 22€
More information coming soon, stay tuned!
▲ Don't forget to RSVP before January 6th
▲ Payment will have to be made by wire transfer by the January 10th !
Don't miss out !
◈ APPLY HERE ◈
https://docs.google.com/…/1FAIpQLSd2YxM64U5XuvkiWD…/viewform